Are you looking for holiday gifts for your loved ones, but aren't really sure what to get them? There are a ton of widely popular items that will likely be on their wishlist, but if you're unfamiliar with the latest trends, it may be difficult to think them up all on your own – not to mention the fact that they may already have several of them! Google has launched an incredible and beautifully designed Shopping Gift Guide which recommends the top 100 trending (searched for) gifts for several types of people in your life.
The site focuses on the chef, the athlete, the techie, the decorator, the wellness guru, the gamer, and the kids in your life. Families and friends are as diverse as the gifts themselves, so having things split up this way is a great way to shop for that special someone (or yourself!) and be sure that you're going to make them smile. The selected gifts are based on U.S. Search trends, so keep that in mind as you shop.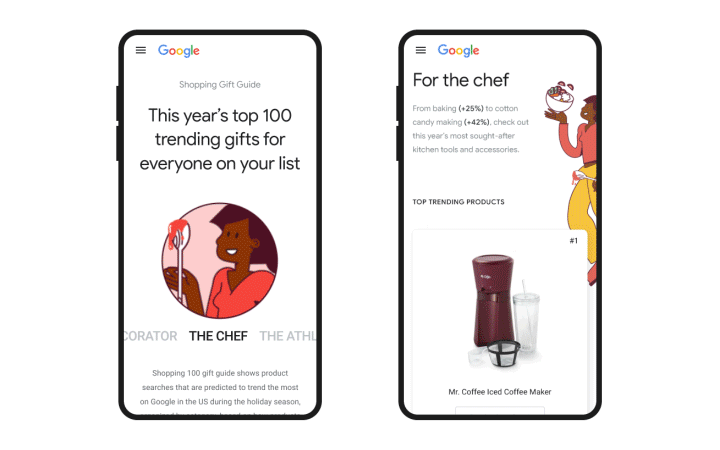 Once you find a gift you think they will like (and not return), you can buy it directly on Google or be linked out to hundreds of stores to finalize your purchase. Should you decide to brave the outdoors, Google Shopping lets you see store hours, stock alerts, and even curbside pickup offerings of nearby brick and mortar locations. From the comfort of your home, you can check out their new Price Insights feature which will allow you to see if what you're paying for a product is high or low compared to other prices across the web and nearby.
If you're having trouble getting a jump on the holiday wishlists early enough in the year, you can use collections day to day to save items you think your family or friends may be interested in. Google is adding a shopping widget to the new tab page of Chrome which will help you pick up where you left off and we think collections may be considered here in the future. Alternatively, you can jot down gift ideas in Google Keep under a list with that individual's name and then store each one under a label called 'Wishlists' too!
• recipe searches have doubled
• "Home Exercise" up 85%
• Monitors and headsets with microphones up 450%+
• "how-to" up 22%
• "self-care" up 250%
• game console searches up 39%

2020 Interesting Search Trend Statistics