Since the pandemic began, Google has done a lot of work in Search, Maps, and more to aid users in finding vital information and to help keep themselves and their families safe. Not only have they created an Exposure Notification API so that each state across the country could make their own contact tracing apps, but they've also added a dedicated COVID-19 data layer to Google Maps, health and safety information cards to business listings across the globe, and provided safety tips for those traveling during the holidays. Now, they're doing their due diligence to surface trustworthy information on COVID-19 vaccinations to the top of Search so that you can be certain that you're not being misinformed.
Starting with the UK, Google will launch a new feature on Search that will surface authorized vaccinations and their locations to the top of user's results. Additionally, they will create information panels for each vaccine and place news from trustworthy sources first. As vaccines are authorized by health authorities, they will then bring these features to more countries.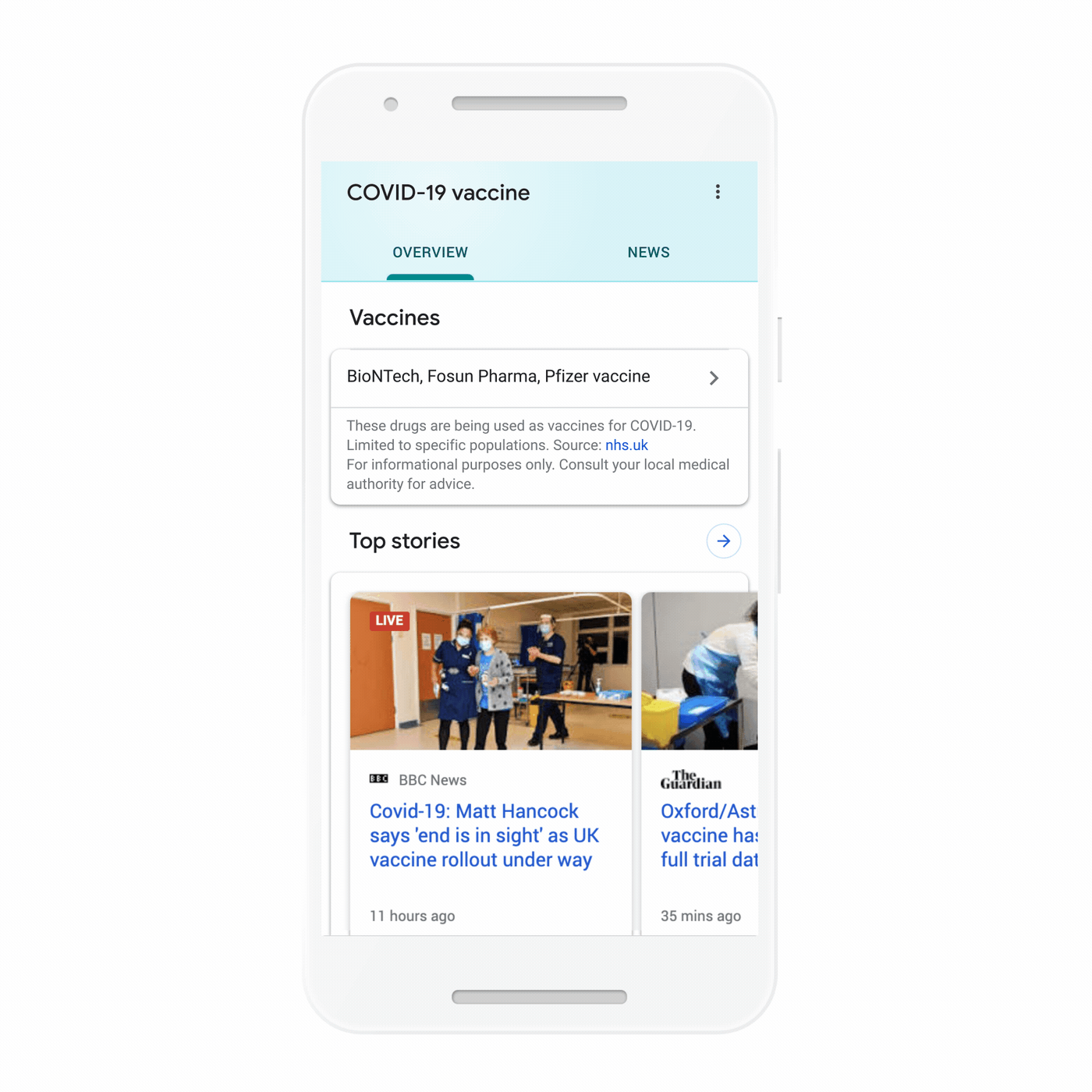 Equally as important, Google is funding the creation of the COVID-19 Vaccine Media Hub* to support fact-checking research. Their Trust and Safety team is also working around the clock to prevent phishing attempts, malware, conspiracy theories, and fraud schemes in order to keep misinformation off of their platforms. They actually did a similar thing during the election, and since the start of the outbreak, they've removed over 700,000 Youtube videos that contained misleading information on the virus!
There's a delicate balance between censorship and catching misinformation attempts and I think that as time goes on, Google is going to be responsible for doing more necessary work in this space – and I, for one, couldn't be happier. Though controversial, I think that with third-party sources like the Vaccine Media Hub, despite Google's funding, there should be enough checks and balances going on to keep them honest as they seek to purge their platforms of wacky attempts at content creators and dishonest journalists and media outlets misinforming users.
* Now, the Google News Initiative is providing an additional $1.5 million to fund the creation of a COVID-19 Vaccine Media Hub and support new fact-checking research. Led by the Australian Science Media Centre, and with support from technology nonprofit Meedan, the hub will be a resource for journalists, providing around-the-clock access to scientific expertise and research updates. The initiative includes science media centers and public health experts from Latin America, Africa, Europe, North America, and the Asia-Pacific region, with content being made available in seven languages.