Google just made a big announcement regarding Hangouts…I mean Chat which resides inside of G Suite…I mean, Google Workplace…. erm, Workspace. What I mean to say is that in the first half of next year, Google will begin to migrate all regular Hangouts users over to their newly created Google Chat service. In the process, they are making it free for everyone and then killing off Hangouts once and for all when the transition is complete. To ensure that the process goes smoothly, they will automatically move over your Hangouts conversations, your contacts, and your saved history.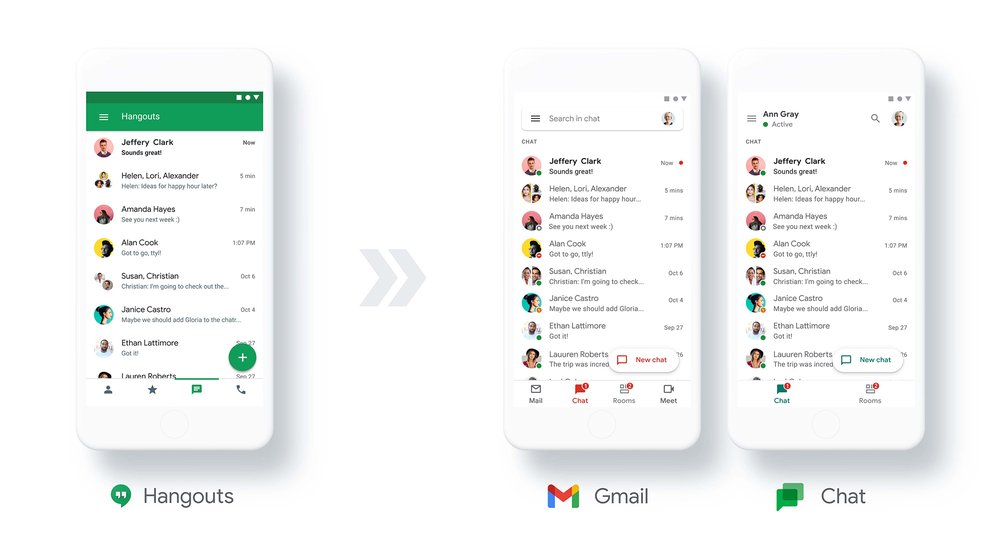 Google Chat is a messaging service built into Gmail which also works standalone. Users can create dedicated 'rooms' to participate in threaded conversations, collaborate on Docs, Sheets, and Slides, assign tasks, and more. It's basically Google's answer to Slack and their way of keeping everyone on the same page. It has powerful search features, built-in phishing protection, and the ability to integrate third-party bots to automate tasks. Why then, is Google bringing this clearly enterprise-focused tool to the masses? Most regular users won't have a need for bots, threaded conversations add complexity, despite how interesting they are and Hangouts worked just fine. 'If it ain't broke, don't fix it', right? Well, Hangouts is pretty broken, even though we've all grown to love it, and Chat looks to clean up its mess.
If you're currently using Hangouts to manage your Google Fi text messages, you will no longer be able to access this feature early next year. According to Google, most users have shifted away from doing this at all as the Google Messages app looks nicer and is more integrated with their phones. There is good news, though – Fi users will be able to make voice calls and check voicemail and messages from the web and manage conversations from Messages across devices, even if their phone is off. Does anyone else feel like we keep going in circles with these messaging service reincarnations? This feels exactly like Google Voice all over again.
On that note, Google Voice support in Hangouts is also getting the axe early next year. Voice users who manage everything through Hangouts will be redirected to the Google Voice app almost immediately. Additionally, the ability to call phones from Hangouts is being removed early next year too. This month, anyone who uses the feature will receive an in-app notification which will tell them how to get a refund for any unspent calling credits.
Lastly, any G Suite or Google Workspace Admins who have not finished migrating their users from Hangouts to Chat will receive a notification showing them how to complete that transition. Whew! That's a lot of clean up, but let's be honest, we all knew this was going to happen eventually. Google is no stranger to creating and recycling messaging apps in an effort to find their 'iMessage' competitor and Hangouts was probably never going to get a second extension anyway. With Google Chat, the company wants to continue to invest in their vision of building a helpful and secure communications platform – even if that does mean breaking the whole dozen eggs in the process. I'm actually very much in favor of Google unifying their messaging efforts, so long as this is the last time they jump to something new because my friends and family will hate me for making them download yet another app.