Bookmarks are dead. Okay, now that I've ruffled a few feathers, allow me to explain myself. Bookmarks aren't necessarily dead, because we still need to store and organize information from around the web, but bookmarks, as we know them, are coming to an end. You see, the human brain is terrible at persistently organizing data that isn't urgent and even worse at calling it back up when it's needed, especially if the initial task of storing it was offloaded to technology. This is why I can guarantee that most of you reading this have hundreds of bookmarks with little to no organization. It's okay, I do too. Whatever system you've currently employed is probably out of date with your needs and you just dive in to find a quick reference to something you saved last year but could probably have Googled faster. If this works for you, it's because you've accepted that it is what it is, but does that necessarily make it a good system?
If at first you don't succeed, try, try again
Google's mission has always been to organize the world's information and to make it universally accessible and useful. They have tried to step in several times and have played with the idea of helping users collect and organize information that interests them. Initially, they created the standard Google Bookmark manager that we all know and love – the one we use today. Even if it is a bit ugly and dated, it's utilitarian and 'gets the job done'. Luckily, Google wasn't content with just helping users 'get the job done', but rather, they wanted them to get it done efficiently and in perhaps even in style. That's why they created the Save to Google extension in 2016. Save to Google was mostly a visual refresh of the bookmark manager and featured the ability to tag things, but it ended up being axed in 2018 – just two years after its initial launch. Feedback came in loud and clear that the extra stylization had caused the user workflow to slow down.
Before I introduce the new Google Collections to you, I want to briefly mention something here. The company had played with the idea of collections back when Google+ was still a thing and I loved them. Unfortunately, they were discontinued. The main problem with Google+ Collections was that they only consisted of posts and photos curated within the social network. Whether or not Google+ survived, this feature would have been severely limited in its scope and ability to offer information to users compared to the open web.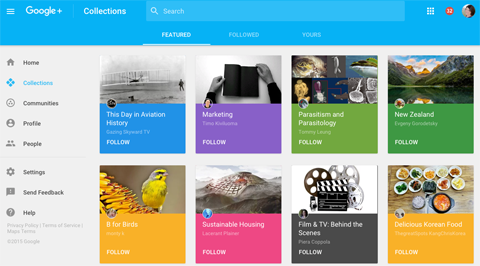 Enter 'Google Collections'
While Google could have given up and let everyone have their text-based bookmarks, which allowed them to add web content in a way that would give neat freaks like me a heart attack, (many people like that freedom!), they instead took it as an opportunity to see how they could improve the tried and true experience. Bookmarking wasn't just about style and it certainly wasn't about being social at the time. It was about making information more accessible, and useful. They believed in the idea so much that they took everything that they had learned, along with their new AI and machine learning superpowers, and created what we now have. Data needs to be stored where it's most useful for when it's most relevant. Otherwise, it's absolutely worthless. The new Collections feature does that for you – just like when we used to tag our own photos in Picasa Web Albums until Google Photos came along and replaced it. That's when we started to take the "Make Google do it" approach. Given the popularity of Photos, I can scarcely believe that the majority of users would prefer things how they were before.
Data needs to be stored where it's most useful for when it's most relevant. Otherwise, it's absolutely worthless.

Michael Perrigo – (I've always wanted to quote myself)
The modern Collections feature also puts the power of the open web and its content creators all across the globe into the hands of users and draws the user's business back to them. I think Google realized that doing what they do best and connecting people to information that they organize made more sense than trying to keep everyone in-house. The web can't truly be tamed or owned, so they're just empowering us to explore it and in the end, that's in step with their mission statement.
While you are collecting everything right inside of Google, you're constantly being linked out to other places on the internet. Now, you'll no longer need to go to a limited social network like Google+ to save that German chocolate cake recipe or chat about it with people in an internal community. The experts are already on that mom and pop bakery blog you like and the recipe is yours for the taking, thanks to all the hard work the owner did to put the instructions together for you. There are some people who claim, quite harshly, that Collections are all just a way for Google to keep you inside of their ecosystem and sell you on things. While that could certainly be true to some extent as they are a for-profit company, keep in mind that you're free to visit any location on the open web using Google's tools as a gateway and then buy your goods there, supporting your local and small businesses and creators.
Collections aren't really a secret, but their potential and influence are severely under-recognized and most of you probably didn't notice that they've invaded almost every aspect of the Google ecosystem over the past few years. You can find a little bookmark icon on the web and on your Android or iOS phone. If you're a laptop or desktop, you simply need to visit your Collections by typing google.com/save into the browser. If you're using a mobile device, just open the Google Search app and you'll see a Collections button on the bottom bar. This used to be hidden in the 'more' menu of several Google apps, but ever since they've started to put their strategy into play, it's found its way out into the open. You should also take notice of the same bookmark icon on the bottom bar of Google Maps and Google TV, on every image on Google Image Search, on Google Jobs listings, every item in the Play Store, Google Maps, News, the Chrome browser web view for Android and iOS, Google Shopping, and more. Where you don't yet see it in places like Google Play Books, Play Games, Youtube (Watch Later), your Discover feed, and more, I can guarantee you eventually will. The bookmark icon (like you'd find sticking out of a real book) has become a universal sign for saving things, so it only makes sense to continue unifying the experience across all of their services.
Collections also allow us to experience the world through travel, food, crafts, and more and to chip away at our so-called 'bucket list' in a way that bookmarks could never do. Before I started to use them, I would store hundreds of bookmarks and constantly feel frustrated that I didn't know what I was doing with all of that data… the sheer volume and disorganization of it quickly overwhelmed me. it's very much like when your desktop gets out of order, but you're too busy to organize it (that's why Chromebooks don't have one). Who wants to micro-manage their personal data all day instead of living life and putting it into motion? Collections take all of that stress away almost entirely. Besides, us humans love collecting things, we're just terrible at constantly finding a place for it to be relevant in our daily lives since our attention span and mental resources are limited. I'm already creating a full tutorial for Collections as we speak (or rather, as I write and you read), but for now, you can explore them on your own using the information in this article.
Why you don't like Google Collections, but should
We hate the idea of someone else controlling our experience because we feel that it will no longer be our own, but while it's good to be cautious, we should rely on technology in some capacity to enhance our minds and life experiences – that's the very reason we created it, after all! If you've tried using Collections and didn't like it because you found that you couldn't save just anything from the web, like Robby mentioned, keep in mind that the whole idea is to assist you in only adding information where it's relevant, thus solving the 'bookmarking problem' of everything being an inconsistent mess. As I said, the human brain doesn't always know what to do with tons of data and when and where to use or recall it – computers are much better at that. Besides, this feature may be coming soon. While there's currently no indication on whether or not it will be worked in as a 'Read it Later' collection, we've already seen Google begin to tie in their Discover feed with Google News for saving articles for later and I think that's truly the first step, at least for mobile users. Outside of recipes (Use a collection) and websites (create a Chromebook shortcut), most of what people bookmark is something they want to read later and this may solve that problem.
Google is changing the way we look at and process information. In many ways, Collections are the epitome of their mission and a true evolution of the classic and beloved bookmarking system. They are quite literally being used to organize the world's information and make it universally accessible and useful. By capturing every bit of information inside of a beautiful, easily digestible card that you're in control of and then applying their 22 years of search experience to it, they can help you decide how to get the most out of the data in your life.
I don't see Google 'sunsetting' Collections like did with Save to Google and Google+ Collections. Projects get let go if they require too much effort on the user's part and AI and machine learning will solve that with this endeavor more and more over time. I think that the new Collections will become a standard, one day replacing the classic bookmark manager. A bold claim to be sure, but when you see that Google keeps trying their hand at something, it shows that they're invested beyond just tinkering. I'll talk about why the Google Graveyard is a myth one day very soon, but for now, just know that while they may have a slightly messy journey, I don't believe they're going anywhere. Also, nothing really makes classic bookmarks special except their ability to be exported as plaintext and taken out of Google's services for safekeeping or use elsewhere. Guess what though – Collections can do the same thing. If you visit Google Takeout, you can export them all in CSV format which is a whole lot cleaner and makes more sense than just a text document, in my opinion.
Even if Google did kill the service, they're already transforming what it means to collect and organize information on the open web. In fact, they're helping to influence the very DNA of the industry. Look at what Microsoft is doing inside of Bing – Collections (below). Look at what Twitter is doing – Lists. Look at Facebook and Instagram – Saved items. Stumbleupon has been doing it for years and so have others. They all pretty much use the bookmark icon – that universal sign I mentioned earlier. While Google certainly didn't start this trend, they are leaning into it hard with artificial intelligence and machine learning to be successful in taking the burden off of the user in a way that no one has been able to do before. Just make Google do it, because it's kind of their thing, after all. Though you will see immediate protest to this approach, I think that most people you ask will consider it a breath of fresh air.
A word of wisdom
You may now be asking yourself – "If Google Collections are so great, why don't I ever hear about them?" Well, I would like to speculate that perhaps Google isn't really talking about them much yet because they're playing the long game. They're more than likely getting them rolled out across all of these apps and services and implementing them in many of the ways I've predicted. Then, when you see the final product, it will make sense in a way that looking at an unfinished piece of art never could. You'll probably even think the old method for bookmarking things no longer suits the modern age of information and collaboration that we find ourselves in. At least, that's my hope.
I'll just leave you with this – while nothing will ever stop you from storing your bookmarks the good ol' fashioned way, I predict that because we're headed toward an AI and machine learning future at breakneck speeds, these big companies may one day completely replace your classic bookmark managers with Collections and the best thing you can do is to be open to change, at least a bit. No one is forcing you to use new tools – there's always an open-source alternative, and if there isn't, it can be created. However, those who enjoy technology the most and allow it to enrich their lives are the ones who adapt to change and approach everything with an open mind. It's good to be cautious and to have checks and balances – something we certainly need more of. If we're going to live in a world where technology benefits us whatsoever, avoiding innovation and convenience entirely is not a path forward, getting involved in shaping its future is, and I believe that Google Collections may play a big part in that.