Gmail is home to many 'smart features' which help you get to zero inbox quickly. These machine learning and AI innovations created by Google – like Tabbed inbox, Smart Compose, Smart Reply and spam, phishing, and malware protection – help you focus on what matters so you can get back to your day. In an effort to remind consumers that they have control of their data all the while being able to benefit from these great tools, Google is introducing new settings in the coming weeks for Gmail which will allow you to decide if your Gmail, Chat, and Meet data will be used to personalize these smart features.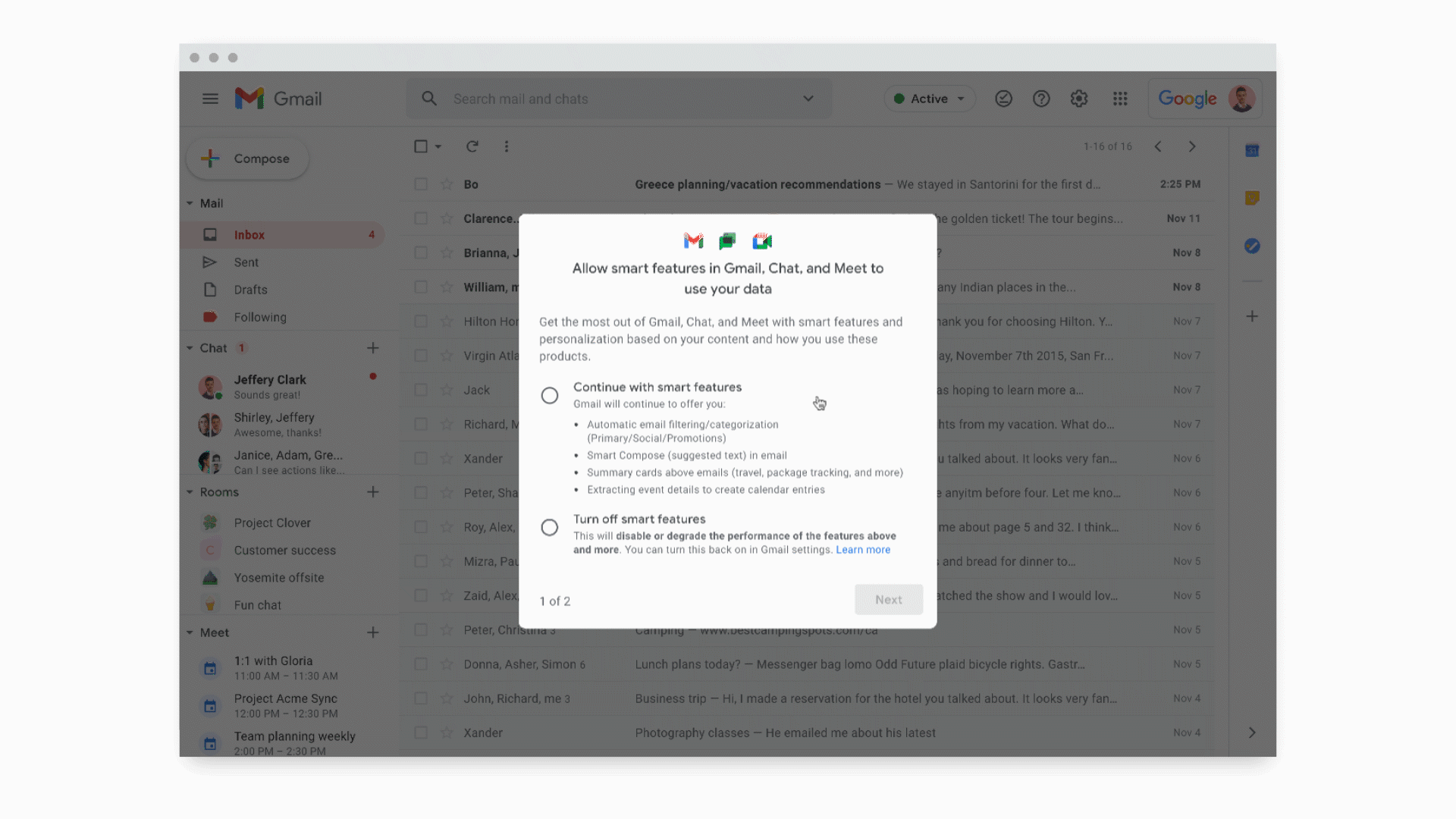 Allowing Google to do so will provide you with better results while using their services. Automatically being notified when bills are due via Google Assistant, getting restaurant reservations in Google Maps, and more will be tailored to your needs instead of generalized if you opt-in. The ability to turn this setting on or off is not new, but instead, Google is making sure the choice is presented to you in a clear way that's out in front of you instead of being buried in your account settings.
While it's true that Google wants you to use these tools because you find value in them and not simply because they exist, this open and direct data usage prompt most likely comes by way Sundar Pichai's 2018 congressional hearing on Capitol Hill in which the company was pressed by lawmakers to make it even easier for users to understand their privacy and control their data. Sundar stated that 160 million people had checked their Google account settings for privacy controls, but promised to do more to increase that number.
When presented with the new setting, it's made clear that should you choose not to enable it, you will be experiencing 'limited versions' of Google's services. I love that they're being pressed to be more transparent with how they're utilizing customer data, but I'm also glad that they're pressing into the often-overlooked benefits of their methods which usually seen as controversial. It's great to be privacy-minded, but it's even better to be balanced in that approach and use these conveniences where they make sense to do so.