Chromebooks are known for being fast, light-weight productivity machines. Normally, when someone unfamiliar with Chrome OS speaks of them in terms of creativity and design, they're dismissed as completely incapable. While they may not be able to run the full-fledged version of Adobe's Creative Suite, they can do a lot more than they're often given credit for and that's becoming more true with each passing year.
In an effort to help Chromebook owners understand and explore the possibilities with their new and existing devices, Google has posted a blog that outlines many web apps geared towards creativity. For instance, they mention how easy it is to tweak the lighting of a photo in Adobe Lightroom or to bring your creative vision to life with some of our favorites – ArtFlow and Concepts.
More importantly, they've updated the Chromebook Perks page to include a handful of powerful photo and video editors – all of which you'll get to experience without charge! Let's take a look at these new offers and what you'll get with them. Don't forget that Google is offering a slew of other perks as well, like a year of Google One, 3 months of Stadia Pro, GeForce NOW, Youtube Premium, KineMaster, and much more! You can also find your Chromebook Perks in the Explore app on your Chromebook and you should check back often as they're updated constantly.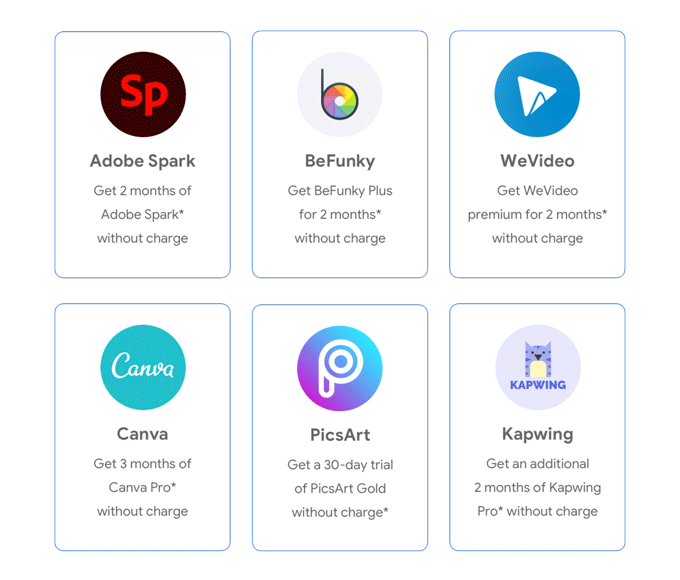 Adobe Spark lets you create stunning visual stories, social graphics, web pages, and short videos in minutes. You'll get 2 months without charge for free – a $19.98 value.
BeFunky is an all-in-one creative platform that has everything you need to easily edit photos, create graphic designs, and make photo collages. You'll get 2 months without charge for free – a $13.98 value.
WeVideo is one of the best web-based video editors and has many of the same features (for basic to mid-tier editing needs) as well known editors. You'll get 2 months without charge – up to $120 value.
Canva lets you create professional designs by yourself or with a team. Tri-fold pamphlets, greeting cards, social media graphics, business cards Youtube thumbnails, and more! They have templates for nearly everything you could think of. You'll get 3 months of Pro for free – a $38.97 value!
PicsArt lets you create amazing photos and video edits with templates, fonts, stickers, and more. You'll get a 30-day free trial of PicsArt Gold for free – an $8.99 value.
Kapwing is an online image, video, and GIF editing platform that enables you to create memes, stop motion videos, looping clips, use filters, resize photos, trim videos, and more. This one actually snuck up on us and we'd never heard of it! You'll get 2 months of Kapwing Pro without charge – a $34 value.