When Google first created Chromebooks, they opted for the removal of the caps lock key. The decision was probably made because caps lock (originally called shift lock) was created for mechanical typewriters and while locking capitalization on a modern keyboard is useful for some things, like report headlines, legal agreements and VIN numbers, most regular users just need to camel case their type instead – which they use the shift key for. Besides, Google Search has become so core to our lives (unless you prefer Duck Duck Go, but that's a different conversation) that it made a lot of sense to place the world and all of its knowledge at our fingertips via the Chromebook's hardware.
As time went on though, a lot of users were uncomfortable with the idea of removing the caps lock that they had come to know for so many years. Google did try a 'How to Chromebook' campaign in which they created a video teaching users how to enable caps lock with a keyboard shortcut, and later allowed users to convert the button into caps lock via the settings, but debates over its true identity still raged on amongst the Chrome OS community. Now, the Chromebook's launcher or 'caps lock' key is simply called the 'Everything button'!
Coming to us via Google Support – an odd way to spread news, I think – Chrome OS Community Manager Rebecca states that Google is calling the launcher button the 'Everything button' going forward is a part of a new campaign that's meant to make Chromebooks easier to explain to friends and family. The Everything button is just one tap away and allows you to locate all of your stuff across your local files, Google Drive, saved web apps, and more. It also helps you find anything you need on Google search, of course. Oh yeah, it's caps lock if you want it to be, too!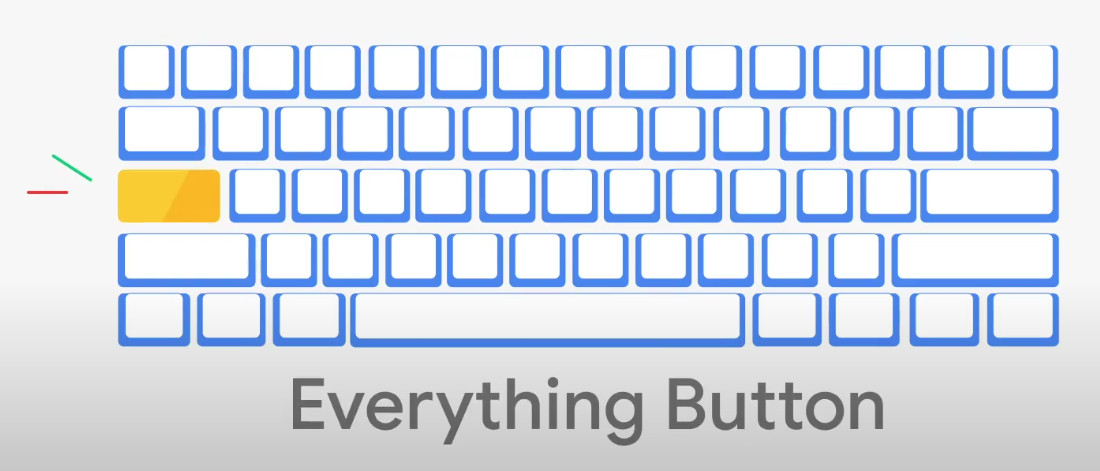 Do you know this key by another name? It's a new name for the "Launcher" or "Search" button on Chromebook keyboards. The new name for the "Launcher" in this campaign was chosen to reflect user feedback, and highlight that Chromebooks have a dedicated button on their keyboards that enables them to search through files, apps, Drive, the web and more. 

Google Support
While it feels odd to say that broadening a term instead of narrowing it will provide clarity, I think that the Everything button is a rare case that benefits from this. Now, if you're using it as caps lock, you can go right ahead and call it caps lock and no one will stop you. If you're using it as 'search' or your 'launcher' as it comes out of the box, you're also correct! The name change is just meant to reduce the amount of time people spend deciding what to call it and increase the amount of time people spend using it. Besides, it's fitting because it's quite Googley!
I imagine that Google will provide a simple OOBE setup question when you first unbox your device from the store which will ask you what you want your 'Everything button' to do. Then, I'm sure they will remind you that you can change its functionality at will through the settings. I would even go so far as to say that combining Google Assistant with the Everything button would probably be a good idea. Instead of having a separate key, maybe the Everything button could have multiple functions – tapping it could pull up your launcher or enable caps lock while pressing and holding it could activate Google Assistant.
Interestingly enough, this key could very well be moved to a different place on the keyboard in the future, though I quite like the idea of completely customizing the caps lock spot to whatever I want as it feels central to the user's focus (It's also just a home row pinky away!). I've become so accustomed to its current location that I couldn't imagine it being anywhere else at this point, but what if the Everything Button became multi-functional as I mentioned above and moved down below CTRL and ALT – where it currently resides on Google's very own Pixel laptops? This would allow for the caps lock to reclaim its throne and make Chromebooks easier for potential buyers to understand. It would be such a pain reaching down to that button from the home row position so often, so I probably wouldn't be in favor of this, but who knows? We'll just have to wait and see what Google does in the near future. I just hope that this change simplifies things as they hope it does instead of causing more confusion with all of that extra freedom.