If you've yet to try out the Chrome browser's Dino Run game, it's a side-scrolling arcade-style distraction that puts you in control of a T-Rex. The objective is simple: run as far as you can without hitting any obstacles. The longer you run, the faster the game gets, and the more difficult it becomes to avoid obstacles like cacti, birds, and pterodactyls.
You used to only be able to play it when you were disconnected from the internet, but Google created a standalone URL you can bookmark or turn into an icon on your Chromebook to play any time just by visiting chrome://dino in your browser. But did you know that the T-Rex in Dino Run was designed to run for a whopping 17 million years? That's right, Google's Edward Jung, the original creator of the game, revealed this during Chrome's 10th-anniversary celebration. I don't know about you, but I think that's pretty interesting! Obviously, no speed runner is going to accept that challenge, but I'll leave you to figure out why.

Edward: We built it to max out at approximately 17 million years, the same amount of time that the T-rex was alive on Earth… but we feel like your spacebar may not be the same afterwards.

The Keyword
The team that created it wanted to capture that retro feel that we all know and love, so they designed the game and specifically the cacti with pixel art reminiscent of the classic broken page graphic for Chrome that reads "He's dead, Jim!" It was also originally going to feature a roar from the T-Rex at the start of each run, inspired by Sonic's animations at the start of each level. Obviously, it's a different animation, but the idea of the animation itself was the focus. Unfortunately, this was cut from the final version, which is a shame because I think it would have been a nice touch.
Here's a fun fact for you: Dino Run was originally called "Project Bolan" after Marc Bolan, the lead singer of the 1970s band T. Rex. Clearly, Edward or his colleagues were into the game, and Google is well known for its fun and quirky codenames – many of which never end up becoming public-facing knowledge. In 2014, the game was also completely rewritten from scratch to run on Android devices because, well, it just ran like crap before that since it was coded specifically for desktops.
To celebrate Chrome's 10th year, Google built a special birthday edition of Dino Run that featured a bunch of fun elements like a birthday cake, balloons, and a party hat. It also created an Olympic-themed version back in 2021 to celebrate when the Olympic Games were hosted in Tokyo, Japan. I hope the company continues this trend of special versions of the game, but I can't think of a good next idea. Luckily, another developer created a really crazy awesome Dino Swords version of the popular T-Rex game that features pop culture guns, swords, and more (definitely not for kids, but you'd better try it if you're an adult!)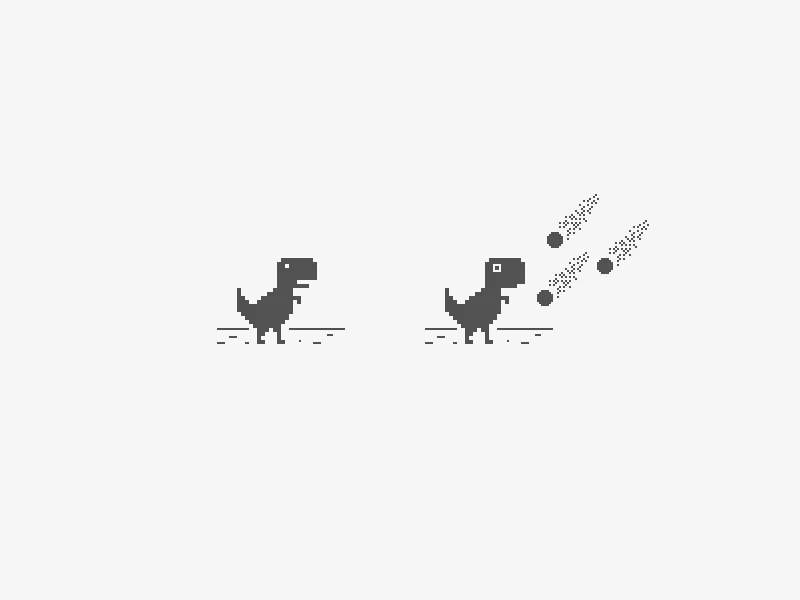 My favorite part of the game has to be when the T-Rex gets struck by meteors. Too soon? Maybe, but it was 66 million years ago, and I can't help but laugh every time it happens since Dino's eyes bulge out of its head. Anyway, what's your highest score in the game? Let me know in the comments! I'm not about to share mine because I'm terrible at it even though I enjoy playing from time to time.