Just last year, Google introduced something called "FLoC", or the "Federated Learning of Cohorts" in which it would group people based on different criteria for ad targeting. This was set into "incubation" where it would be tested to see if it would be a viable replacement for the long-standing third-party cookies in Chrome.
After pushing its timeline for FLoC, it's now determined that it will instead introduce something called "Topics API", or "Interest-based advertising (IBA)" in its place. Google still has plans to be rid of third-party cookies by next year, so its desire to move quickly on an alternative has been important. However, it also needs to introduce something that's not going to piss everyone off while still respecting user privacy and not utilizing a device fingerprint.
Essentially, Topics allows your browser to choose a handful of topics, like "Fitness, "Travel & Transportation", and more to represent your top interests for that week based on your browsing history. Then, they're kept for a rolling three weeks, meaning that older topics are continuously deleted as time passes.
One of IBA's benefits is that it allows sites that are useful to the user, but perhaps could not be easily monetized via contextual advertising, to display more relevant ads to the user than they otherwise could, helping to fund the sites that the user visits.

Github
As far as the new Privacy Sandbox goes, I would say that this is a pretty interesting alternative to what we've had all of these years. It allows Google to keep an updated profile for users for the purposes of serving ads without relying on anything external, like its own servers. That's right, Topics will rely entirely on local data stored offline on the user's device!
Topics enables browsers to give you meaningful transparency and control over this data, and in Chrome, we're building user controls that let you see the topics, remove any you don't like or disable the feature completely.

The Keyword
At first, only certain websites will participate in the Topics API, and upon visiting one of these sites, Topics will choose the one topic from the past week, one from the week before that, and a third from the week before that. With three total in its tank, it will then share those with its advertising partners.
Despite this process, it will be careful to exclude sensitive categories like race or gender. As you can see in the image below, the current and old model of doing things was via invisible trackers that didn't make much if any sense to regular users, but just like with Chrome's existing ad preferences, Topics will also be visible to the user, and easy to use and navigate. You'll see a list of topics selected and be able to delete them right from a menu interface in the browser.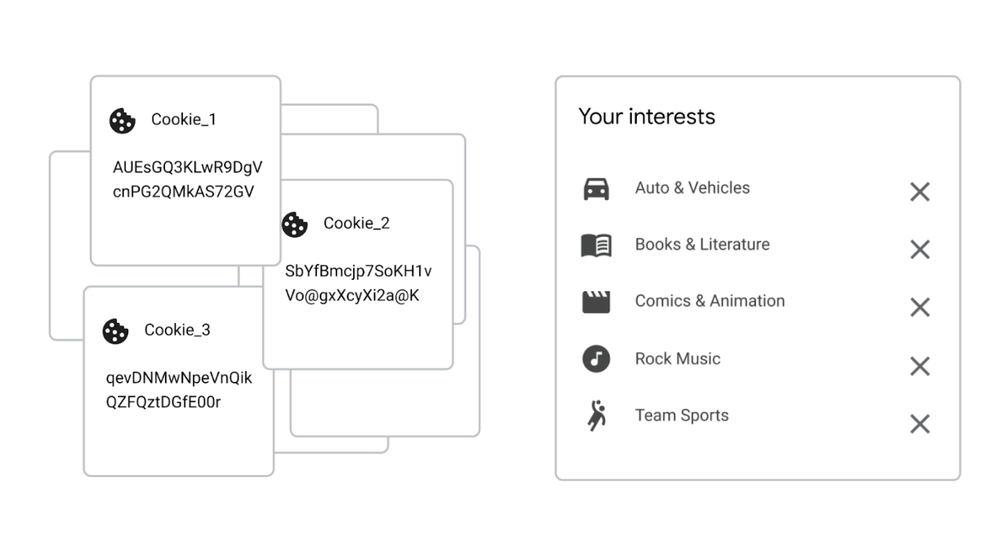 The Privacy Sandbox website has already been updated to reflect the new Topics approach, and a more in-depth explanation of how it operates can also be found over on Github. At the end of the day, this is still being developed, but it's clear that much thought has gone into it. In fact, it was entirely created based on feedback from the FLoC trial that Google held just this year, so it's taking all voices into account to make something that benefits everyone.
I doubt it will get this perfect, at least at first, but third-party cookies are starting to outstay their welcome, so it's great to see ongoing work toward an alternative being performed. Whether or not it will still be possible for malicious parties to track users with the Topics API like it was with FLoC remains to be seen, but I hope we're honing in on something that truly respects user privacy.