A while back, Google Maps had begun allowing businesses near you to post updates about their offerings under the 'updates' tab of their listing. However, unless you intentionally visited them on Maps, you wouldn't see this information. Instead of relying on users to seek out new announcements from places nearby, Maps is curating them inside of the Explore tab in the form of a social network-style feed!
Now, you'll get updates and recommendations from trusted local sources with the new 'community feed'. It will show you the latest reviews, photos, and posts that have been added by local experts and people you follow as well as food and drink merchants. There will also be articles from publishers. The whole thing very much feels like an evolution of Google's Local Guides Connect, which has long been a sort of hidden social network for travel enthusiasts and foodies.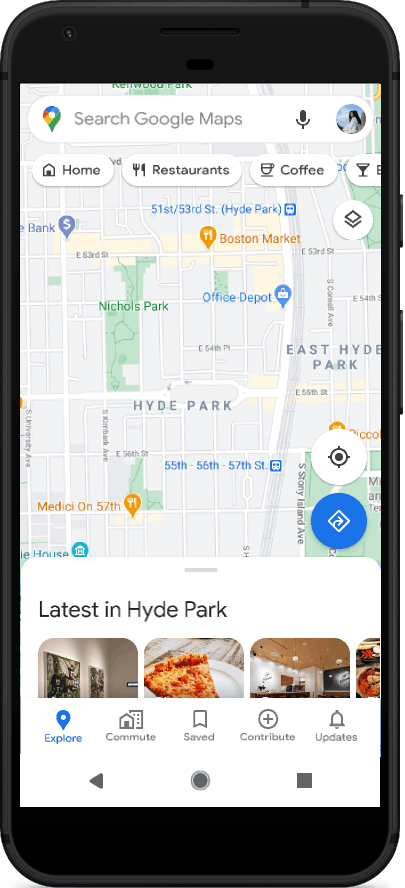 The core idea behind the community feed is to make it easier to find things to do and places to go near you. Those who remember Google's Schemer (you are missed) will see that this feels like an evolution of that as well if only just a bit. It also takes some cues from Google Bulletin, a short-lived service that relied on in-the-know users in your neighborhood to create stories around community events. I can see this being evolved to encompass all of these ideas further in the near future. It may even make sense to allow Local Guides to create Instagram style 'stories' for review before they're posted to the community feed. The possibilities are truly endless, but for now, the focus is on businesses and trusted reviewers.
For example, a local restaurant could post a new dish they've created in hopes of driving business, or a bar and grill could post about upcoming happy hour discounts. The feed will also take into consideration your food and drink preferences if you've set those up in the app's settings and will tailor what it shows you based on those! Google states that in early testing of the community feed, they've seen that posts from merchants are seen twice as much as before the feature was created, proving its worth early on. You should see the new community feed soon on Android and iOS globally as it begins to roll out. There is no mention of a web-based rollout yet, but it would certainly be welcome.