Since the launch of Google Workspace Individual a year ago — a new service to help one-person businesses grow by letting them use the same apps they use in their personal lives — Google has made several upgrades to give its users more bang for their buck. However, realizing there's more to be done, Google has revealed what's next for Workspace: Electronic signatures in Google Docs.
When you're constantly switching between different apps and shifting gears to get work done, it can be tough to keep track of customer contracts and agreements that need to be signed, especially if you're running a business all by yourself. This can be a challenge even if you're used to multitasking. Because of this, Google is natively integrating eSignature in Google Docs, allowing users to easily execute agreements from within the familiar Docs UI without switching tabs or apps.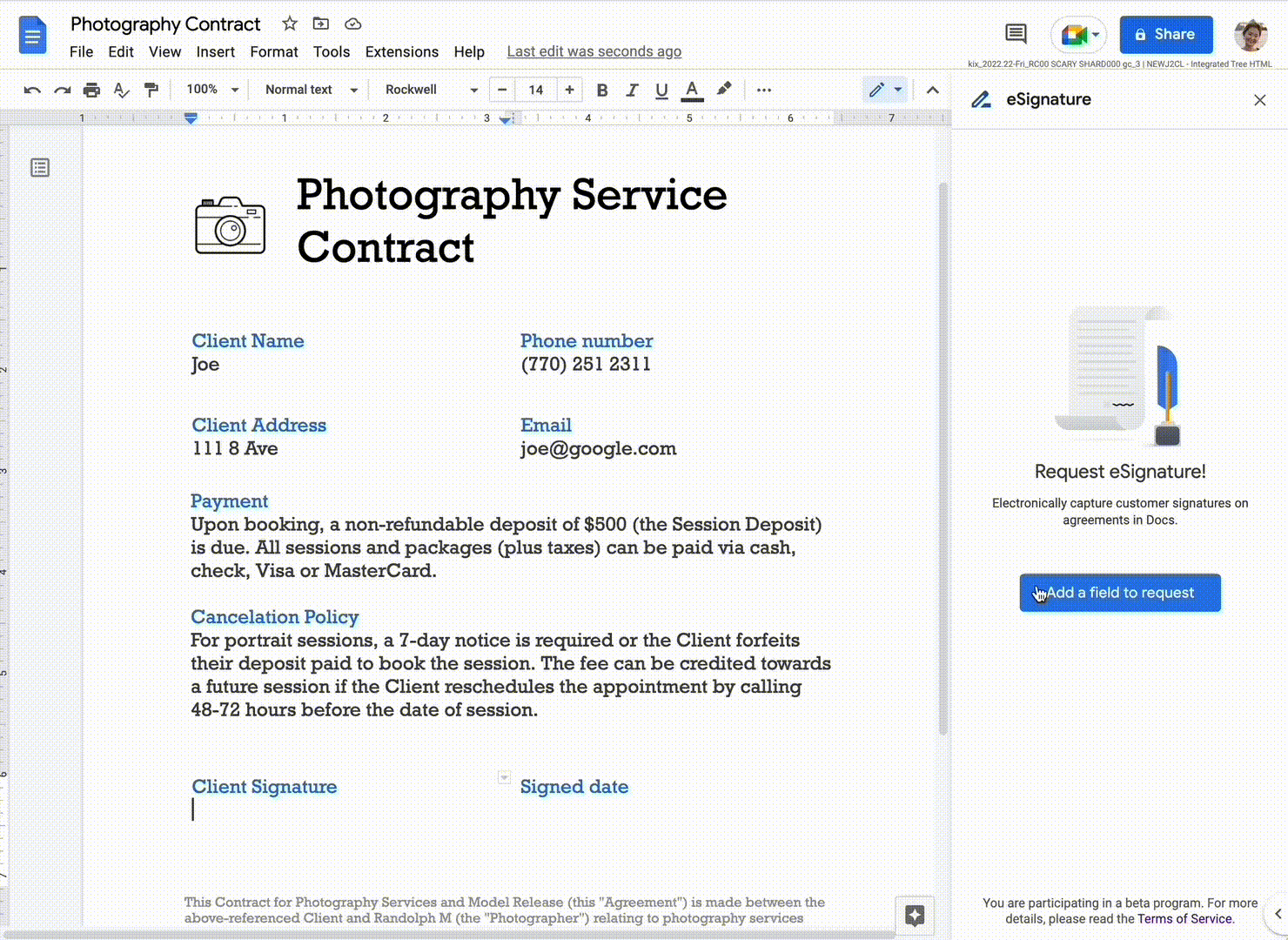 Electronic signatures in Google Docs will make use of the same infrastructure and built-in protections that Google employs to ensure the safety of your personal information and privacy. Below are some of the ways that Google states eSignature can help you:
• Collaborate in documents: Collaborate on changes directly in Google Docs with comments and suggestions — no need to export the file to send a draft contract over email.

• Add fields to documents: Within the familiar Google Docs interface, you can easily drag and drop signature and date fields in branded documents you create.

• Request a signature: Once you resolve all comments and suggestions, requesting a signature is as easy as sharing a file in Drive.

• Add signatures: When ready to sign, the signee can easily add their signature, no downloads needed. Once the signature is added, a completed PDF contract is emailed to both parties.

• Monitor and track progress: Quickly see the status of pending signatures and easily find completed, signed contracts.

• Create copies of contracts: For signature workflows that need to be repeated regularly, you can streamline the process by creating copies of existing contracts and then modifying as needed.

Source: The Keyword
The feature will soon be available in Beta to users of Google Workspace Individual. However, Google states that if you are already settled with a dedicated third-party eSignature app, you will most likely be able to integrate it with Google Docs just like the native solution. Google Workspace is already compatible with many of the most prominent services that offer this, such as DocuSign and Signeasy, so this can only mean that there will be one less step to take when a signature is needed.