Before my days as a prestigious technology journalist (I almost wrote that with a straight face), I spent a few relatively successful years in the automobile industry. I wasn't just a run of the mill, local car lot vulture, mind you. As a matter of fact, the CEO of the auto group where I was employed was named Time Magazine's Dealer of the year just a couple of years ago. If you know anything about car sales, you know that's a pretty big deal.
All that to say, I worked at a dealership that prided itself in taking care of the customer but at the end of the day, it was all about the sale. I'm not going to get into the nitty-gritty of industry secrets but in my time as a Master Certified Ford Sales Consultant – sounds swanky, right. It takes about as much online classwork as a two-year degree so I like throwing it around- I learned a good deal about how the greats in the business got to be that way. Let me tell you, the old school car biz was rough. When I entered the field, things had started to shift and many of the salespeople that came after me worked on a salary-based system that rewarded them for units instead of commission. Me? I was one of the last remaining dinosaurs that still lived and died by a 100% commission-based living. Thankfully, I built a client base very quickly and didn't have to beat the pavement a whole lot to pull a decent wage each month. Still, there were always those cats that would lurch around the lot waiting to pounce on the next unsuspecting gazelle to wander through the asphalt savanna.
Commission Breath
It isn't the most savory term but it precisely describes the experience many have had when visiting a car dealership. You run across a salesperson that is desperate to make a deal and they will do anything and everything to get you sitting down and ready to ink a deal. Despite being a savvy salesman myself, there's nothing quite like the anxiety I get when I visit a car lot to look at a new car. When I'm looking at a vehicle, I want to take my time. If it's a used car, I really want to inspect it at my leisure. I get it. Time is money and I don't want to waste an employees time when he or she could be out making a sale to someone else but still, I don't want to sit down in the driver's seat just to have someone run me through the paces of "it's got this and it's got that." I don't care. I know what I want and I know what I looking for when I'm car shopping.
It's for this reason that outlets like Carvana and Vroom have risen in popularity over the past few years. With a decent return policy, the auto gumball machines take a lot of the anxiety out of the entire process but there's still a lot of legwork to be done by the buyer and all the photo booth photos in the world can't deliver a true hands-on experience with how a new car looks when you're sitting inside or how it shines when it's sitting in your driveway. Thankfully, Google's got you covered.
In last week's "Search On" event, Google announced and a handful of new search tools and some of those are aimed directly at online shopping. For the sake of this article, we're talking about the AR Showroom. You may have seen Google's AR experiment that brings wildlife alive on your mobile device when you select "view in 3D" but soon you'll be able to do the very same with a new car and take an up-close and personal look before you head out to take a test drive.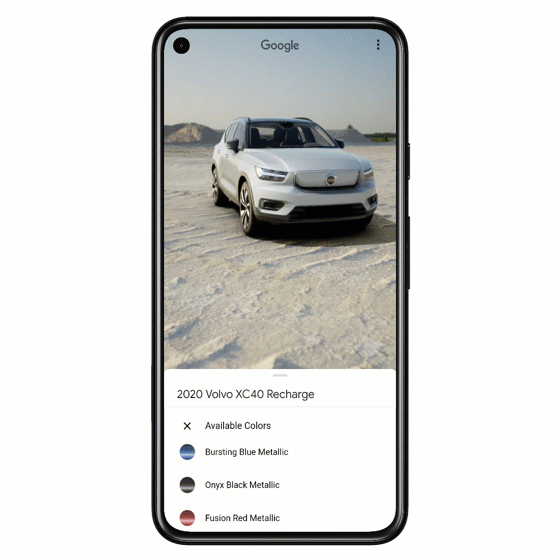 You can try out this feature right now with select vehicles in the mobile Chrome browser. Choosing the "view in your space" option will allow you to actually place the vehicle right there in front of you in an AR space. This will allow users to drop a new car in the driveway and take a 360-degree look around. You can even move in close to the vehicle and boom, you're in the cockpit for a detailed look at the interior and features. Now, I understand that this will not replace a good old fashioned test drive but it is a great way to get a feel for a new vehicle without the pressure of a salesperson looking over your shoulder. You can take your time and enjoy an unlimited tour of a car from the comfort of your couch. You don't even have to get out of your pajamas. For me, this will be a go-to tool when I start shopping for my next vehicle. I guarantee that it will take a lot of stress out of the experience as I will be able to walk onto the car lot confident that I know what I'm looking for before I drive it. Go ahead and give this a try. It's really cool. Learn more about Google Search's new features here.